Yup Im bored so I'm posting shiat up.
My first tat... and yes i know pics crap cause this pc joint's webcam is crap.
And this is the new one I got while in China.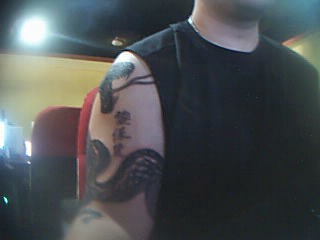 That mo fo spent mad time on that snake. He did each faking scale individually.
The Chinese Characters is the name of dude that passed away thats like my brother.
NICE!!!
This is one of my favorite subjects so here are mine:
This is my left fore arm. That is a print of Lulus foot when she was 4 months old.
This is what I got instead of a tongue piercing a few years ago. He's on the outside of my right calf
Sorry for the crappy colour of these next ones. This one is on the back of my neck
This one is version 2 of my back piece. The original was really bad so I had it re-coloured
This is also a cover up. This one is on my right shoulder
These next 2 pics are of the band around my left upper arm. Starting with the inside of my arm -
outside of my left upper arm -
These pics are of the garter band around my left thigh, it goes all the way around

Sehkmaa





I really like the footprint. it very rare only seen one other person do it years ago.

Lol the wolf/puppy looks cute though=D and I see everyone tries to be Asian and gets the dragon thing going on =)

Very nice Misha.
---
Permissions in this forum:
You
cannot
reply to topics in this forum